English - Français - Español - Pусский - Deutsch - हिंदी - 中文 - 日本語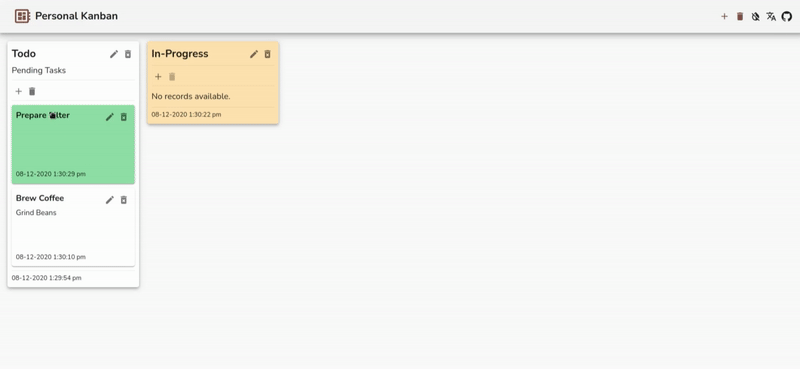 A virtual offline Kanban Board for your personal projects and work flows.
Personal Kanban is an offline capable application or tool that implements kanban to manage work at personal level. Work items can be represented as records and columns to depict each stage of your work process. Columns can be as simple as "todo", "in-progress" and "done", or it can be complex to suit your flow.
It's a tool to visualize and optimize your workflow. Physical boards are popular among few, while virtual boards like Personal Kanban play a critical role in agile software development considering its accessibility, simplicity and elegant display. Regardless of whether a board is physical or virtual, it must depict work visually along with clearly identifying the blockage and other dependencies. Each of these features are offered seamlessly by Personal Kanban.
Plan your work with flexibility, identify and resolve bottlenecks and overview your complete work visually.
Start Using Now
Features
A few of the things you can do with Personal Kanban:
Add, Edit, Delete Columns
Move Columns
Add, Edit, Delete Records
Move Records
Restrict WIP limits for Columns
Manage Column and Records Background Colors
Clear Board
Dark Mode
Localization Support
Offline capable
Offline local storage
Privacy and Usage
The application makes use of browser local storage for persisting your work columns & records and does not store any personal kanban data on any sort of server.
Feedback or Suggestion
Kindly submit your feedbacks or suggestion for any improvements, bugs and fixes.
Submit Now